Heather Holland volunteers to help find closure for families when trail goes cold
ELISHA ANDERSON - Detroit Free Press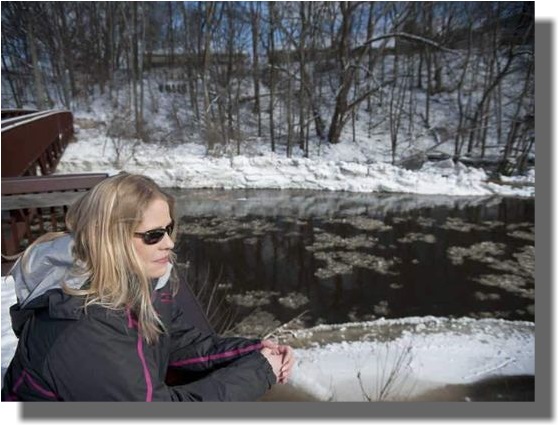 DETROIT -- For nearly a year, Carolyn Spires and Heather Holland spent weekends searching for Spires' missing stepdaughter.
The two women didn't know each other until Spires was interviewed on a local TV station about the disappearance of 20-year-old Kristin Spires, and Holland called offering to help. The young woman -- from Barryton in mid-Michigan -- didn't return home in May 2010.
It's not unusual for Holland to reach out to families because of her hobby: solving missing person cases, including those that have been cold for years.
She formed a bond with Carolyn Spires. They scoured more than four counties, looking on dead-end roads, state-owned property and even a lake during their quest for answers.
The answer came in April 2011 as the women searched on state land near Big Rapids.
An area stood out.
"We went over there and looked at the spot, and I said, 'Man that doesn't look right,' " Spires recalled.
The land around it was frozen, but the ground that drew their attention wasn't.
"I told Heather, 'I need something to dig with,' " she said.
Spires used an ice scraper to peel back the ground. They saw a bone and what appeared to be the site of a grave, and then alerted authorities.
Kristin Spires' body was buried there
"If it wasn't for Heather, I don't think we ever would have ever found her," Carolyn Spires said.
Holland, 30, is part-investigator, part-researcher and -- if you ask some of the people she's helped over the years -- part angel.
Over the last four years, she's worked on about 20 missing persons cases and helped solve several of them. Sometimes, she contacts families after hearing about cases and sometimes they reach out to her.
Over the last four years, she's worked on about 20 missing persons cases and helped solve several of them. Sometimes, she contacts families after hearing about cases and sometimes they reach out to her.
"Any moment I have that I'm not at work, I'm on the phone, until 11 o'clock some nights, and on my lunch break, I'm on the phone trying to talk to more people," she said. "On my way home from work, I do the same thing."
Police said Holland produces results.
"It's good to have people out there that can help us out," Michigan State Police Detective Trooper Sarah Krebs said.
Holland's work has helped people such as Donald Norman, 63, who didn't know what happened to his twin brother.
Ronald Norman, 42, disappeared from a foster home in Detroit on Dec. 8, 1991. He required extra care because of severe head injuries he sustained years earlier.
About four months after his disappearance, boaters found a body in Lake Erie in Monroe County, but never connected it to Ronald Norman. The unidentified man was buried as John Doe.
Years passed. Donald Norman carried on with pain and no answers.
"I never gave up," he said.
Enter Holland.
She searched for clues using the National Missing and Unidentified Persons System (NamUs) website, which launched in 2007. It contains databases of people who have died but haven't been identified and those who are missing.
Krebs said she entered Norman's case and the unidentified remains case into the system, and Holland made the connection 19 years after he had disappeared.
"She recognized the similarities between the two and pointed it out to me," Krebs said.
NamUs' software also flagged the case because of the similarities. Medical records Holland obtained helped identify the man in 2011.
Authorities say they believe Norman drowned in the Detroit River, and his body washed up in Monroe County that April.
"He went missing one county away," Krebs said. "There are a lot of those tragic stories out there where the dots should have been connected and they just haven't been."
For Donald Norman, the discovery provided closure.
"It was a burden on me for a long time," he said.
A Passion
Holland had a high school friend whose aunt went missing years ago. She wanted to be involved in the community, so Holland joined TrackMissing, an organization that helps locate missing people and her now 4-year-old hobby grew from there.
Her day job as a social worker helps fund her passion to find people. Holland doesn't charge for her help and estimated she spends about $10,000 a year out of her pocket on cases.
"It would be one thing if my hobby cost a lot of money and didn't have any good end results," she said. "I'm getting better every day I do it."
Sometimes, she said, people are more willing to talk after time has passed. Other times, they may talk because she's not a police officer.
Holland said she usually doesn't get involved in cases that are actively being worked on by law enforcement and often reaches out to police early on. She's gotten mixed reactions from police over the years. Some agencies are more open with her than others, she said.
"I try to really get involved when the family is out of resources," she said.
Getting Expert Help
After Jim Polzin went missing from Flint in April 2011, his family members connected with Holland.
The 66-year-old man's newspapers had started piling up at his home, and his neighbor thought something was wrong. Polzin had been going through a rough period -- his longtime fiancee died of cancer about a month earlier, and his mother died before that, relatives said.
Holland said she sought permission from police and worked with a man who specializes in trailing to find people through scent. More than two weeks after he went missing, they collected articles from Polzin's home and used dogs to locate his body a wooded area about a mile from his house.
He had suffered an apparent self-inflicted gunshot wound to the head, his brother, Albert Polzin, 58, said.
"We had a few people go down there," Albert Polzin said. "And they never found him."
Hard work
Police are investigating Kristin Spires' death as a homicide. No one has been charged with her death, but one man was convicted of obstruction of justice for lying to police about the case, Mecosta County Prosecuting Attorney Peter Jaklevic said.
The next step in the case, he said, is to bring people to justice.
"I look at it like she's home, and we have her, and she's at rest," Carolyn Spires said. "But I still think that somebody should pay for what they've done."
Kristin Spires might still be missing if not for the work of the women, Mecosta County Sheriff's Office Detective Sgt. Casey Nemeth said. He called the discovery borderline divine intervention.
"I can't explain how she did it," he said. "Just hard work and not giving up."
Original article on February 18, 2013